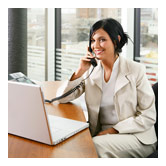 Please complete the form below in order to enroll in one of our scheduled courses. Upon receipt of your enrollment form, one of our enrollment specialists will contact you to finalize your enrollment and obtain payment information.
Please note that your enrollment will not be confirmed until one of our enrollment specialists reviews your enrollment request, verifies that space is available in the course, and contacts you for payment information. This typically takes place within 1 business day from the date that we receive your enrollment.
If you wish to schedule on-site training or have additional questions about a course (or the enrollment process), please contact us at 877-258-8987 or info@otg-nc.com.